Pre-Employment Background Screening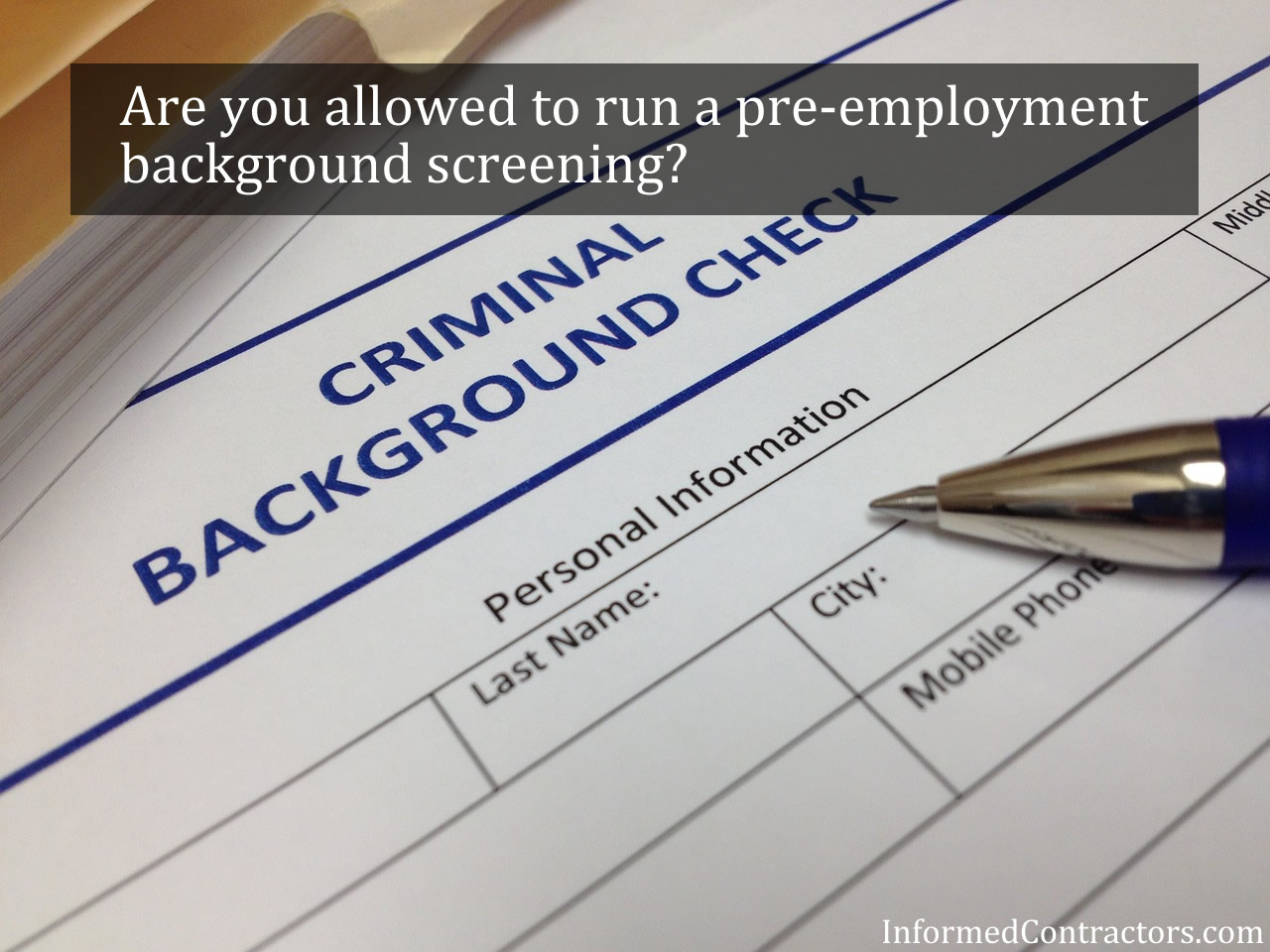 Can a company be held liable for illegal actions of their employees?
By Christopher W. Olmsted -
Attorney with Barker Olmsted & Barnier, APLC
When a company negligently hires and retains a worker with dangerous propensities, it can be held liable for harm that the worker causes to customers, co-workers, or others.
For example, if a company hires a recently convicted violent felon to work unsupervised in customer homes, the company may be held liable if the worker assaults the homeowner while working in the home.
How Far Does It Go?
How far does this legal doctrine go? What if the worker and the customer come into contact during the course of employment, but the violent act occurs after termination? An appellate court answered this question for the first time in California.
The case is titled Phillips v. TLC Plumbing, Inc., and it tells a tragic story. In 1999 TLC employed James Cain as a plumbing service repairman. The company was aware that Cain was on parole and apparently had been convicted of a domestic violence and/or arson offense involving his then wife.
A few years later, in April 2003, TLC dispatched Cain on two service calls to Judith Phillips' residence. The next month, TLC terminated Cain's employment for misuse of a company vehicle, drug and alcohol use, and threatening a coworker.
Cain and Phillips began a social relationship in April 2003 after his first service call. Their relationship seemingly evolved over time into a romantic one. About two years later, after Ms. Phillips had ended their relationship and applied for a restraining order against Cain, he shot and killed her. Later he was convicted of murder.
The General Rule - Would An Employee Background Criminal Check Protect The Employer?
Generally, employers may be held liable for negligent hiring decisions. The court in Phillips considered this general rule.
Quoting case precedents, the court wrote: "An employer may be liable to a third person for the employer's negligence in hiring or retaining an employee who is incompetent or unfit."
This would include, of course, not only workers who cannot safely perform their work, and those who are known to be reckless, but also workers with violent propensities.
For The Safety Of Those Around You
An employee background criminal check may offer you, your company, your employees, and even your family some extra security against someone who would bring you harm.
It is a matter of making the employer bear the loss it has caused for making negligent decisions.
"Liability for negligent hiring," wrote the court, "is based upon the reasoning that if an enterprise hires individuals with characteristics which might pose a danger to customers or other employees, the enterprise should bear the loss caused by the wrongdoing of its incompetent or unfit employees."
According to the general rule, merely hiring a worker who then turns out to be incompetent, careless or vicious is not enough to create liability.
The company must have had reason to know of an unreasonable risk of harm. In other words, as the court wrote, "negligence liability will be imposed on an employer if it 'knew or should have known that hiring the employee created a particular risk or hazard and that particular harm materializes.'" 
Thus, if an employer should have conducted an employee background criminal check on a worker, and doing so would have revealed a history of violent crimes, it could be said that the employer "should have known" of the risk of harm. (Note: this does not mean that all employers must necessarily conduct background criminal checks for all positions.)
Conversely, if an employer does run an employee background criminal check and finds reason to believe that hiring the applicant could possibly create a risk the employer could be found liable of negligence - and worse.
No Liability For Post-Termination Misconduct?
The court analyzed the general rule and determined that the duty of care exists only during the employment relationship, not after termination.
The court wrote: "Because the employer-employee relationship ends on termination of an employee's employment, we conclude an employer does not owe a plaintiff a duty of care in a negligent hiring and retention action for an injury or other harm inflicted by a former employee on the plaintiff even though that former employee, as in this case, initially met the plaintiff while employed by the employer."
The court found no precedent for this rule in California, but found analogous cases in Ohio, Hawaii, Alabama and New York.
Buttressing its decision, the court also reasoned that here the crime in question had no cause-and-effect relationship to Cain's job duties.
Though this case eliminates or at least limits employer liability for acts taking place after termination, employers ought to take note of the potential for liability arising from employee criminal acts during the course of employment.
For example, had the plumber committed the crime while still employed by TLC Plumbing, the outcome of the case may not have been as favorable (though the consensual romantic relationship may have foiled the lawsuit in any event).
As suggested in the "Practical Tips" section below, employers should take appropriate steps to limit liability.
While this company lucked out and was found not liable for the conduct of the ex-employee, that doesn't mean that employee background criminal checks aren't an important part of the hiring process.
Practical Tips and Precautions
Some practical tips and precautions to consider:
Require applicants to disclose criminal histories (note: some state laws impose restrictions). Take steps to verify employment history.
In certain contexts, it is prudent to conduct employee criminal background checks prior to the start of employment.
Take appropriate screening precautions where employees will come into contact with customers, children, or other members of the public.
Verify that employees are properly trained and experienced to perform job duties, particularly where there is a risk of injury to self or others.
Bottom line: Run an employee background criminal check if permitted by your state. Don't hire, and do terminate, employees who exhibit reckless, dangerous, or vicious propensities.
It could mean the life of a customer, the health of your business, the safety of your own employees and family, and so much more.
---
Chris Olmsted is a shareholder in the San Diego law firm Barker Olmsted & Barnier, APLC. Please email him with any questions or comments.
---
Top of this page: Employee Background Criminal Check
Back to home page: Construction Project Management

---