Construction Health and Safety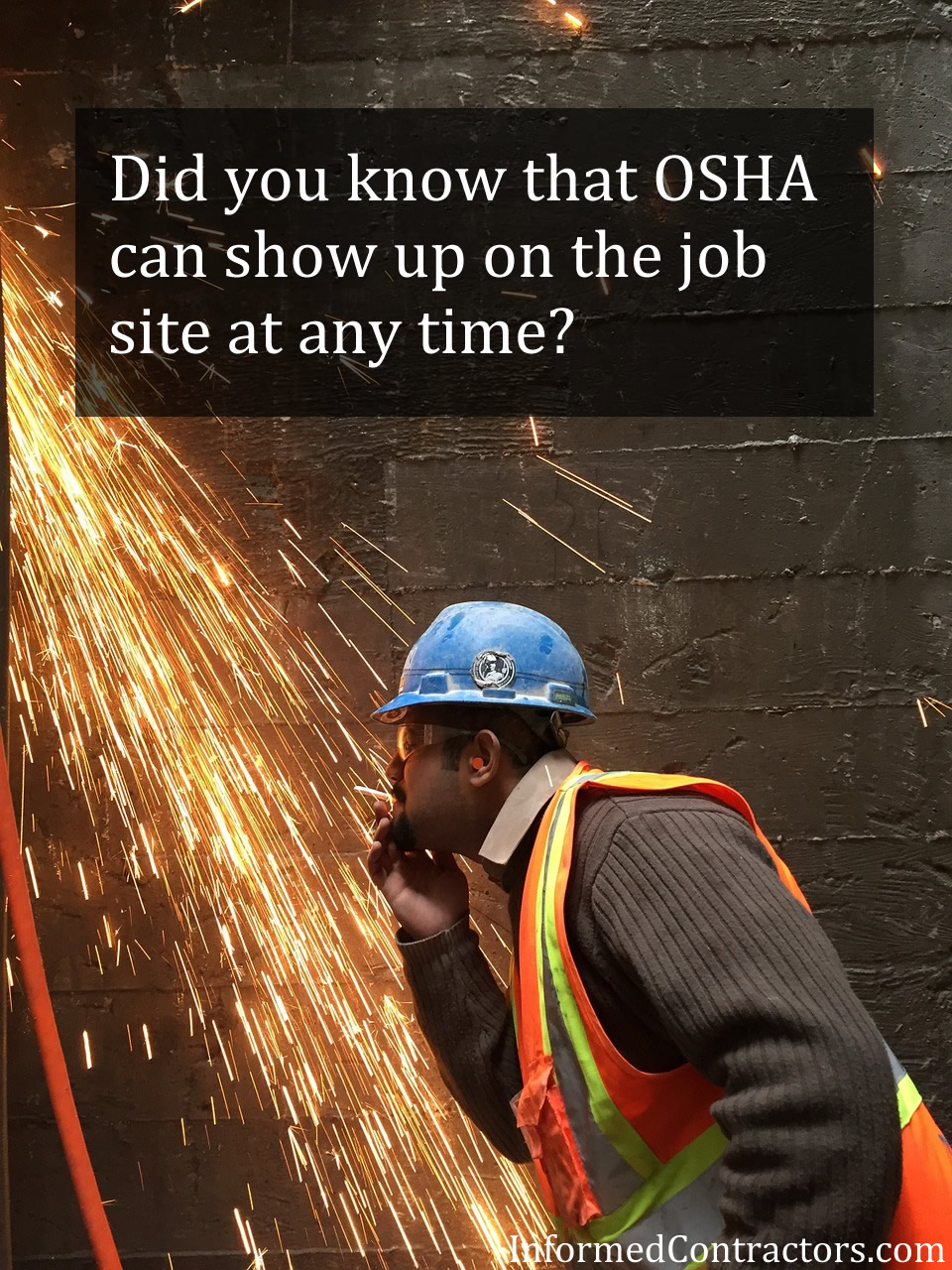 Something that continues to surprise me is that there are still so many accidents on job sites. Safety is paramount and if safety procedures were followed to a 'T' these accidents wouldn't be happening with near the frequency that they are
We all know that OSHA takes safety very seriously (as should we all).
Do you have a professional safety program in place?

OSHA's budget has been increased significantly for the "whistle blower enforcement" program
Did you know that OSHA requires ALL contractors (in EVERY state) to hold frequent safety meetings?
Did you know that holding frequent safety meetings and avoiding job site accidents (duh, huh?) ;o) are the two best ways to lower your workers comp rates?
Did you know that OSHA can show up on the job site at any time and request to see your safety program and records of meetings?
Construction workers/installers are crucial to a successful construction business and the cost of them being out of work in an injury related accident can be very expensive.
Once someone is injured the expense of that person being out of work goes well beyond paying that person's wages.
Your insurance rate may go up



You either end up behind on a project because you're a man down or you pay OT to the other workers to pick up the slack and stay on track




You may get a visit from OSHA;

if so they won't accept "Sure we have a safety program" - they're going to insist that you show it to them
Chances are you'll have to continue to pay his wages to him since he was injured on the job

You're going to have to spend time going back over your safety practices to see where it can be 'tighter' to try to avoid more accidents

Fortunately there are more and more products coming available to make it easier than ever to comply with OSHA's safety meeting requirement and to keep your employees safe.
With this app you can throw away those cumbersome and difficult to deal with paper manuals because you can use this on your smart phones and tablets - and now you can try the Safety Meeting App for free for 30 days.
It's full of topics and with a 30-day free trial why not check it out?
It's one of a kind and was built using input from construction firms of all sizes.
Preloaded with 700+ English & Spanish topics (and more coming soon)

Meets OSHA required meeting laws

Documents meetings and attendees and notes

Documents jobsite accidents or incidents

Available wherever you can use your phone, tablet, or PC

Unlimited Storage/Employees/Meetings

Tracks active and inactive employees

One account works with multiple crews
The Safety Meeting App makes it easy to stay in compliance and helps keep your employees safe.
Try the Safety Meeting App free for 30-days!
Cheers!
Di-
I'm always trying to help protect employees and to help you to stay on the right side of OSHA and that's why I'm sending information on this Safety Meeting App, designed to make it easy for you to document your safety meetings (which will keep OSHA happy).