AIA
®

Forms A101
A101
®

Standard Form Of Agreement Between Owner/Contractor Where The Basis Of Payment Is a Stipulated Sum

The A101 form is basically a 'fixed-price' contract between the owner and the contractor. It's a pricey little document and it has a sneaky little surprise…
If you use the AIA
®

A101 form you're required to also use the AIA A201 form


Yet more money spent on documents...

Within the A101 document is a reference to the AIA® Form A201 General Conditions of the Contract for Construction.

So if you use the A101 then you're automatically roped into purchasing and using another of their forms (the A201). Surprise!!

It might sound like not a big deal - until you find out how much each form costs for ONE usage (keep reading for more info on that)!
AIA
®

Forms - what once was a gold standard may now be considered actual gold ... judging by what the AIA charges!


There was a time when the AIA® contracts were considered 'the gold standard'. They were the best contracts that could be had without the expense of an attorney.


Unfortunately though the prices on these documents are astronomical - almost like the AIA® thinks its forms aren't just the gold standard but that they're actually made of gold!

When you use the A101 and the A201 you'll be paying at minimum $25 for EACH form (with each only allowed to be used once).

You're paying $50 for every contractor/owner contract you need on a project (3 projects would equal $150 - PLUS the cost of the subcontractor contracts you'll need) and those contracts aren't really designed to keep *your* company in mind.

How can they when they're boiler plate?

To top everything off, you get the distinct pleasure of filling in - by hand - those 'golden' contracts for every project (bet the owner on a project loves the professionalism of that). :o\


The cost of AIA® documents adds up quick:
Cramped-hand-from-hand-writing syndrome
Pull-out-your-hair-in-extreme-frustration-over-mistakes syndrome, etc.!
And if you choose to use photocopies beware that there's a line of red text at the bottom of the document that warns the user and recipient that if the text isn't red then the document isn't original and could be out-of-date.
It's a way for the AIA® to ensure that you purchase new forms every time you need one; they know that the text isn't something you want to put in front of your customers or your subs when the text isn't red.
Boiler-Plate contracts - All projects and all contractors using the same contracts
According to the AIA® head honchos the two documents (A101 and A201) together will usually be 'suitable for large or complex projects'.
It (the AIA®) has several different contracts (a few being):
The A101 which is considered by the AIA to be suitable 'for large or complex projects'
The A107 which is considered by the AIA to be suitable 'for projects of a more limited scope'
The A105 which is considered by the AIA to be suitable 'for even smaller projects'
But really - how can boiler-plate contracts be "sufficient" or "good enough" for any contractor or any project?
I'm pretty sure that you don't do the exact same type of work that your contractor buddies do, or at least some of them.
I'm also pretty sure (rather presumptuous I am at times) ;o) that it's rather obvious to you, an informed contractor, that there are waaaaay more project sizes than the AIA could ever account for with contracts.
The only way that boiler-plate contracts will ever be truly suitable 'for most projects' is when contractors all start doing the exact same work and all the construction projects are exactly the same.
… like that's gonna happen …
There aren't a lot of options in regard to having a contract drawn up
Below is a list of pretty much the only options available to have a contract drawn up…
Bad Option #1 - Pay *astronomical* prices for AIA hard-copy forms
Pay $25/$30/$35 and up to whichever vendor you choose and get what's basically a generic one-time-use AIA contract that:
Has to be filled in by hand (it's not digital, it's hard-copy)
Can be used only ONCE per purchase (not per project - each form can be used only once per purchase)
Doesn't give you an iron-clad contract that'll 100% protect your company in a legal battle (how can boiler-plate text protect every contractor and every job?)

And I haven't even yet taken into account all the contracts that you have to purchase for each sub on the job!
If you choose to use AIA forms please hire an attorney to review them before using them to make sure they'll work for your situation.
Bad Option #2 - Pay *astronomical* prices for the AIA digital 'Documents on Demand' program
Sure it's great that the forms are digital but you still have the following issues with them:
You'll definitely pay for each usage, you won't be able to get away with photocopying a blank one for repeated usage.
It's EXPENSIVE! 30+ freaking dollars for ONE digital form! That's for its 'Documents On Demand'; I won't even put the cost for their various plans (but one is over $12,000!). 
It's still boiler-plate even though it's digital once again begging the question "how can it protect every contractor and every project".
And once again I haven't even touched on the many copies of the boiler-plate subcontractor contract you'll need.
And as mentioned previously if you choose to use AIA forms please hire an attorney to review them before using them to make sure they'll work for your situation.
A Better Option (but still not the best) - Hire an attorney
You could hire an attorney and pay him/her hundreds of dollars to draft a basically generic hard-copy/digital-copy contract for you.
You'd pay probably about the same as 5 to 10 AIA documents would cost you - but after those 5 to 10 uses you'd have to spend more money to get more AIA documents.
When using a contract that an attorney draws up for you it would be reusable an unlimited number of times (presumably) and would most likely be in Microsoft Word format.
Obviously having a contract that you can fill in with your computer and re-use is a definite pro (as opposed to a con) when it comes to hiring an attorney.

But a huge con (as opposed to a pro) ;) is that your contract is still technically a generic contract.
Sure it's written for your company but how can it possibly take into account every project that you'll ever do?
And how can it possibly take into account every type of trade you'll ever need, and every subcontractor you'll ever hire?
And if you need it revised then chances are you'll have to pay him/her for those revisions.
More and more money…
The BEST Option
Construction Contract Writer
This is the best contract creating program that you might not yet have heard about.
It's not only the best program to use, it's also the least expensive. Within 1 to 3 projects (depending on how many subs you have on each project) this program will have paid for itself.
State-Required Documents
Each state's program has every single form required by that state.
Your contracts will always be up-to-date and iron-clad!
When using this program (which comes with a free trial by the way) you can/will:
Have an attorney at your fingertips - literally. Within the program is a button to click on to get help from an attorney (at NO extra charge)!
Create as many iron-clad contracts as you'd like (the program actually interviews you to create your contracts).
Create as many versions of as many contracts as you need.
Create specific contracts for each project you perform.
Create subcontractor contracts with a different contract for each sub if you'd like.
Make sure you have every document that your state requires.[Every single required document is included in the program]
Be in charge of your own 'superior & custom contracts' - determine what will and won't be written into them.


Know that the contracts you're using are sound and absolutely 100% current on the law.
Get 36 months/3 full years of free updates and then after that the renewal is only $25 for one year or $40 for two years]

Have the opportunity to have individual contracts for every trade so that every trades' contract is written specifically to the needs for each specific trade on each specific project.
Be able to use the program over and over again to make as many contracts as you ever need to, without paying every time.
[As mentioned, you're golden (golder than those AIA contracts for sure) for three whole years] 
Get one that encompasses all 50 states for less than the cost of purchasing two individual states - if you do work in two or more states then that's the one you want.
Before you spend any money on the AIA contract documents please check out the Construction Contract Writer.
It does everything I listed above plus SO much more.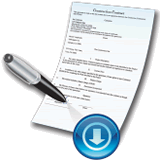 Construction Contract Writer!
And at $149.95 for a full 3 years and then just $25 to renew for additional years, it's just plain crazy to go with AIA contracts if you don't have to.

You'll be able to download it once you're done purchasing it, with the option of adding a backup disc - pay $14.95 for the backup CD and they'll ship it to you for free (should you wish them to).
You could, literally within minutes, be on your way to
construction contracts that protect *you*!
---
---
Back to the top of this page:
AIA Forms A101 Standard Form of Agreement between the owner and contractor where the basis of payment is a stipulated sum
---