Contractors, Smartphones, And Tablets
Re-imagining Paperwork

By Michael Benedict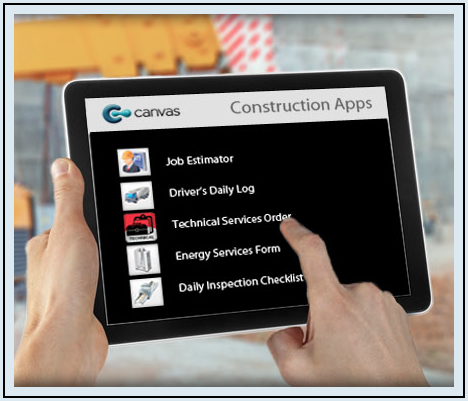 Contractor's Smartphones And Tablets - The Newest Tools Of The Trade!
Want to Increase Income And Reduce Paperwork On Your Construction Projects?
Smartphones and Tablets are being used for far more than just making calls, emailing, updating social networks, etc.
They've become serious productivity machines for your construction business – especially in an area you might not normally consider – all that paperwork you deal with daily.
Many contractors, tired of the day in and day out struggle with paperwork and the time and money wasted, have completely changed how they deal with paperwork - now they fill in and sign their paperwork on their mobile device - proposals, change orders, time sheets, foremen's reports, etc.
Here is *one example of many* - a company that has put their contractor's smartphones and tablets to use and what it's done for them.
Chamberlain Contractors, Inc.
Chamberlain Contractors Inc. started their business in 1976 with two employees, a pick-up truck, and a striping machine.  Today they are a leading parking lot maintenance contractor in the Baltimore/Washington Metropolitan area with over 75 trained professionals on staff and over 150 pieces of specialized equipment. 
After 37 years of doing things the way they've always been done Chamberlain knew there had to be a better way so they decided to take advantage of the latest mobile technology by using their contractor's smartphones and tablets - turning their own daily foreman's report into a mobile app to use on Android tablets.
Chamberlain had been using paper forms to capture data about their jobs. The foreman compiled a report each day and that report had to find its way back to the office.  
The report showed which employees were on the job each day and how many hours they worked. Also included was information about the materials and equipment used on the job, the trucks on the job site, and so on.
However they were having problems tracking employee hours accurately, and getting the employees to submit their time sheets to the office in time to pay everyone – sound familiar?
If a form was hard to read it required wasting time to make a phone call to get the writing deciphered
If a form was missing then that required more wasted time for another phone call
If a field was not filled in then that required yet another phone call. 
You get the picture!
Chamberlain Takes The Next Logical Step To Increase Productivity
To resolve this issue, Chamberlain decided to turn their foremen's paper report into a mobile app using their foremen's smartphones and tablets. 
Now they can have their foremen:
Enter report data right on their mobile devices
Include pictures of their completed jobs, taken with their mobile devices, into their reports
Sign their reports right on their mobile devices and transmit them back to the office 
The accounting team immediately receives the foreman's report (no more gas wasted driving the report back to the office) and can export that data directly into Excel to quickly calculate hours worked by each employee on each job.
Plus, to cut out those time-wasting phone calls due to missing information the foremen's reports have "required" fields to complete.
Because the foremen can't submit their forms without filling in the "required" fields their accounting department no longer has to make those calls.
Now after a day's work of laying 100 tons of asphalt or pouring truckloads of concrete Chamberlain's foremen break out their smartphones and tablets and file their daily reports. 
The foremen are happier because they have:
Fewer calls from accounting
Fewer trips to the office to turn in their paperwork
Thanks to their new way of handling "paperwork" with their contractor's smartphones and tablets Chamberlain Contractors Inc. is now a more efficient organization which ultimately leads to better customer service and the ability to do more of what they get paid to do.
Putting It Altogether
It's time to put those contractor's smartphones and tablets to even greater use.
By turning your paper forms into mobile apps (and/or using the apps that are already available), you can realize an innovative way to run your construction business far more effectively. 
Contractors spend considerable time following up on incomplete, illegible, and lost paperwork and then driving that paperwork back to the office and rekeying information into a database or software program.  
By utilizing the power of smartphones and tablets, you too can have a better way to approach how you complete your estimates, proposals, work orders, change orders, etc.
And you can have it integrated with your Quickbooks (and some other programs), reducing your time spent entering information as it happens automatically!
-----
About this Author: Mike Benedict, VP, Application Store | Canvas, is a former "paper forms guy" who now focuses on transforming libraries of forms into mobile apps. He's worked for years with the construction industry to offer solutions that help contractors manage and promote their business. Now he's helping me to learn how to create these apps for you!
-----
PS: Remember, if you already have a paper form and want to try it as a mobile app, I'll convert it for you for FREE. Please contact me here.
---
Back to the top of this page: Contractors Smartphones and Tablets
Back to: home page

---